Fleetwood's Mount Pavilion hosts new artwork celebrating town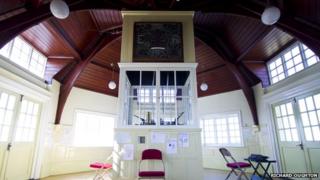 A Lancashire landmark is hosting new artwork celebrating the seaside town of Fleetwood.
Manchester-based artist Liz Postlethwaite has created work inspired by the resort's past and present in the 19th Century Mount Pavilion.
The Meet Me at The Mount display follows a short residency in the town.
"Since the beginning of March I have been lucky enough to use The Mount Pavilion as a base to explore this lovely coastal town," she said.
The artist, who is distantly related to the late actor Pete Postlethwaite, added: "From visiting groups and going on walks, to collecting shells on the beach and meeting dogs and their owners in the park, I have been trying to delve under the surface to get a feel for what makes Fleetwood's heart beat in 2015."
She also drew inspiration from volunteers at the Willow Garden Project, which helps support people with mental or physical health needs through horticulture.
The Grade II listed Mount Garden was designed by architect and landscape designer Decimus Burton in the 1800s.
The new installation has been supported by Fylde Coast arts programme LeftCoast and Arts Council England.