Colin Hendry: Drink-drive ban for ex-Scotland captain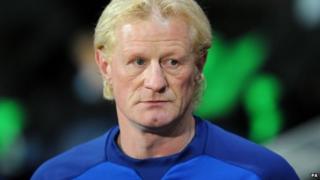 Former Scotland and Blackburn Rovers captain Colin Hendry has been banned from driving for 17 months.
The 49-year-old was arrested after he was stopped while driving a Ford Focus on Church Road, Lytham on 21 February.
Blackpool magistrates dismissed claims by his lawyers that the amount of alcohol he consumed did not tally with the police breath test reading.
The ex-footballer was also arrested on suspicion of breaching a restraining order and harassing his ex-girlfriend.
Mr Hendry was sentenced after tests showed he was almost twice over the legal limit.
Police said he provided a reading of 63mg per 100ml of breath. The legal limit in England is 35mg.
He was also ordered to pay a total of £330 in fines and costs.
Restraining order 'breach'
The former footballer, from Lytham St Annes, was also arrested on Saturday on suspicion of breaching a restraining order and harassing his former girlfriend.
He was warned by Lancashire Police in February after he allegedly pestered Sarah Kinder following the breakdown of their relationship.
He has been bailed pending further enquiries until 24 April.
During his football career, Mr Hendry played for Scotland in Euro 1996 and captained the national team in the World Cup two years later.
The central defender was also a member of the Blackburn side that won the Premier League title in 1995.
He also played for Manchester City, Glasgow Rangers, Bolton Wanderers, Coventry and Blackpool.
Since then he has managed Blackpool and Clyde.