Blackpool FC: Stan Mortensen's niece in statue return plea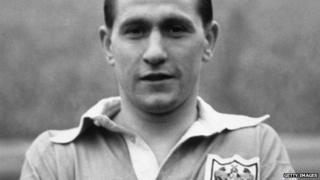 The grand-niece of Blackpool legend Stan Mortensen has called for a statue of the late footballer to be returned to its spot outside the club's ground.
Nicola Heaney said she was very angry when she heard the statue had been removed from its plinth last week.
Fans had planned to leave tributes at the bronze statue as part of a protest against the club's owners on Saturday.
Relegated Blackpool's last Championship game with Huddersfield was abandoned due to a mass pitch invasion.
Fans group the Tangerine Knights claimed the club removed the statue to thwart their demonstration, while Blackpool FC said it would not comment.
The statue was placed outside the stadium in 2005 as a tribute to the Seasiders' centre-forward.
Saturday marked the 62nd anniversary of him scoring a hat-trick in Blackpool's famous 4-3 FA Cup final victory over Bolton Wanderers.
"I will be checking later today to see if it has been restored and if it hasn't I will be deciding on my next course of action," Ms Heaney told BBC Radio Lancashire.
She said the club's chairman Karl Oyston told her last week that the statue would be returned on 5 May or "as soon as other vandalised property has been repaired".
"He gave me his reasons for doing this but I still can't understand why it was done. I can't think of anybody in the town who would want to damage it - nobody had a bad word for Uncle Stan."
A regular at Blackpool matches with her 10-year-old son, Ms Heaney said she initially thought stories about the statue being removed were an elaborate online prank.
"It was a huge shock to the family - I think the shock of it is the one that has mobilised most people.
"My son loves seeing his uncle outside the ground - I had to tell him that the statue had been removed and he didn't believe me at first.
"I just want to see it returned."
Some Blackpool supporters have carried out a series of protests against the Oystons.
The Tangerines were relegated from the Championship with the lowest points tally in the division's history.