Fracking: Cuadrilla's Lancashire applications verdict due in June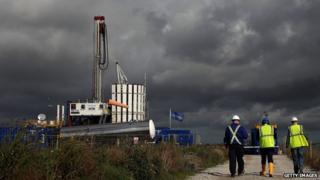 Decisions on whether to allow fracking at two sites in Lancashire will be made in June, the county council has said.
Energy resources firm Cuadrilla has applied to extract shale gas at its sites in Little Plumpton and Roseacre Wood, near Blackpool.
The firm had asked Lancashire County Council (LCC) to defer its application after planners recommended rejecting it due to concerns over noise and traffic.
LCC had been due to consider Cuadrilla's application in January.
Cuadrilla asked LCC to defer the decision so it could address concerns raised in the report.
The authority said the decision on the Preston New Road site in Little Plumpton will now be made at a meeting scheduled for 23 and 24 June and the application for Roseacre Wood, Roseacre, will be decided on 25 and 26 June.
Fracking - or hydraulic fracturing - is a technique in which water and chemicals are pumped into shale rock at high pressure to extract gas.
The technique was suspended in the UK in 2011 after fracking of shale gas deposits near Blackpool was linked to two minor earthquakes.
A study by the British Geological Survey placed the epicentre for each quake about 500m away from the Preese Hall-1 well.
However, a government report published in June 2012 concluded fracking was safe if adequately monitored.