Girl, 8, awarded £13m for Royal Preston Hospital blunders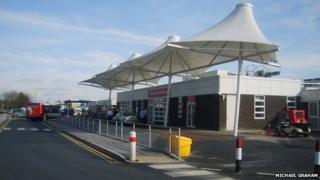 A girl who was "catastrophically" disabled by medical blunders at a hospital has been awarded more than £13m in damages at the High Court.
The eight-year-old, referred to only as "HS" in court, was born in 2006 at Royal Preston Hospital suffering from a streptococcal infection.
The court heard medics negligently failed to diagnose or treat her until it was too late, leading to meningitis.
Lancashire Teaching Hospitals NHS Trust has admitted liability.
'Profoundly impaired'
The High Court heard the failure to diagnose the streptococcal infection led to the onset of the potentially fatal condition.
It left her quadriplegic, almost blind, with cerebral palsy and behavioural difficulties and unable to ever live independently or work, the court in London heard.
Mr Justice William Davies ordered she should receive the money to cover her past and future care, plus specialist equipment and therapies.
He said she functions at the level of a one-year-old baby and can barely see.
Although HS can move her body a little, she has no independent mobility and her intellect is profoundly impaired.
She cannot speak and has very limited ability to interact with the world around her.
The court heard she is expected to live to about the age of 49.
'Unpredictable crying fits'
The family's barrister William Featherby QC told the court it was "a tragic case" and her "catastrophic" mental and physically disabilities had made her the "agonisingly demanding focal point" for her parents.
He said her prolonged fits of high-pitched screaming, kicking, scratching, pinching and grabbing have had a serious impact on the lives of her two siblings.
Karen Partington, chief executive of Lancashire Teaching Hospitals NHS Foundation Trust which runs the Preston hospital said: "We have offered our apologies to the child and her family and sincerely regret we did not provide the standards of care we should have.
"We have conducted a rigorous investigation and have since made a number of changes to our processes."