Drug leaves Lancaster University students in hospital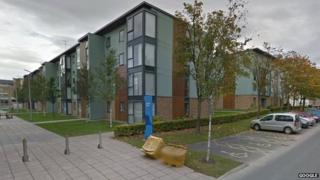 Five students have received hospital treatment after taking a substance thought to be a synthetic cannabis substitute.
Lancaster University initially posted a Twitter alert, saying the group had fallen ill on Wednesday evening after taking the drug Spice.
It urged people to check on their friends and call 999 if necessary.
Three of the students have since been discharged but two remain in hospital. Both are described as "stable".
Lancashire Police said they were called after reports of students "suffering adverse effects after taking the substance, which appears to have been a synthetic cannabis substitute".
'Isolated incident'
In a joint statement from the force and other agencies, a spokesman said: "While full forensic tests will now be carried out to try to establish exactly what the substance was, at this stage we cannot confirm whether any criminal offences which have been committed."
Many chemicals found in synthetic cannabinoids are illegal and there is no way to know what these drugs contain when purchased, or how dangerous they can be.
Supt Peter Lawson said: "All our enquiries lead us to believe that this was an isolated incident confined to these five individuals and that no others are involved or have been affected.
"Thankfully these young men do not appear to have suffered any long-lasting effects but they were very ill and the outcome could have been very different. Our advice on new psychoactive substance remains that people should not take them as they will simply have no idea what they could contain."
---
What are synthetic cannabinoids?
Synthetic cannabinoids are chemicals that act like the active part of cannabis, a substance called tetrahydrocannabinol (THC)
Side effects can include an elevated heart rate, sickness, and hallucinations
They are usually sold in 'herbal' smoking mixtures
Source: Frank
---
Ambulances were called to Grizedale College, a student hall, at about 18:30 BST on Wednesday.
A university statement said: "The university issued a warning to students. Due to the serious conditions of the students and the fact the substance could not be confirmed as legal, officers attended the university to carry out a search of the students' rooms."
Spice, the drug the university originally said the students had taken, is a plant-based mix coated with synthetic chemicals that work on the same part of the brain as the active ingredient in cannabis.
It was among a number of legal highs outlawed in 2009 amid growing concerns they posed a threat to users' health.
Although now banned, Spice and similar drugs can be bought online, with China and the Far East the main areas for production.
Charity DrugScope said there were no figures detailing the extent of the use of Spice but the number of sites selling the drug before the ban suggested a "substantial user base in the UK" and elsewhere.