Whitemoss landfill site: MP condemns hazardous waste decision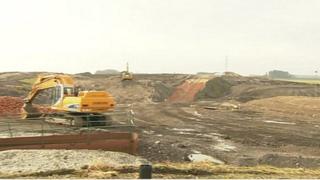 The government's approval of plans to extend a hazardous waste disposal site has been condemned by the local MP.
West Lancashire MP Rosie Cooper said it was a "sad day" after the Whitemoss landfill site in Skelmersdale was also given permission to operate until 2035.
About 500 people marched last year against plans for a new landfill with capacity for 150,000 tonnes a year.
The government said any harm would be "outweighed by the need for national hazardous waste infrastructure".
The decision by the Department for Communities and Local Government (DCLG) followed a recommendation from the Planning Inspectorate after a six-month consultation in 2014.
Simon Ridley, chief executive of the Planning Inspectorate, said: "More than 3,000 representations were received and fully considered by the Examining Authority."
Labour's Ms Cooper said new Communities Secretary Greg Clark had "condemned the people of Skelmersdale to 20 more years of hazardous waste dumping and the consequences of living in the vicinity of this site".
"This truly is a sad day for all who have steadfastly fought against the ongoing dumping of hazardous waste, which residents were promised would end 20 years ago, and now face the dumping of hazardous waste for a further 20 years," she added.