Preston striker Jermaine Beckford gives boy another shirt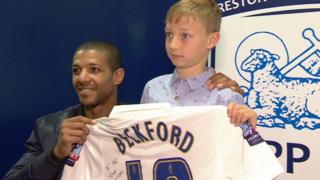 Preston striker Jermaine Beckford has presented a signed shirt to a boy who had one seemingly snatched away from him after their play-off final victory.
Beckford threw his shirt into the crowd after scoring a hat-trick as Preston North End beat Swindon 4-0 in the League One final at Wembley on Sunday.
Television pictures appeared to show a woman taking it off Ted Dockray.
Receiving the replacement shirt, the eight-year-old said: "I'm glad I've got it. I'm going to hang it in my room."
He said he might even wear it sometimes.
Beckford said: "The look on his face when I gave him the shirt... He seemed happy, so I'm happy."
As well as the shirt, the youngster was given a stadium tour of North End's Deepdale stadium.