Bolton-le-Sands beach rescue: Woman waist deep in seawater saved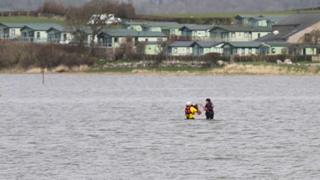 A woman has been rescued after becoming trapped up to her waist in seawater as the tide came in on a Lancashire beach.
The woman, who has not been named, was walking her dog when she got stuck close to the Sandside Caravan Park in Bolton-le-Sands at about 12:40 BST.
The coastguard alerted the RNLI hovercraft to the area - known for its fast-flowing tides - and she was freed.
Police said the middle-aged woman was checked over by paramedics but did not require hospital treatment.
She had been up to her knees by the time the lifeboat arrived but was assisted into the hovercraft along with her dog.
Coastguard Rescue Officer Jeff Kennedy warned the stretch of coastline was "notorious".
"There are hidden gullies as well as mud and sand banks," he said. "So we do ask people to take extreme care when walking their dogs or on horseback."