Queen Elizabeth crew 'panicked' after cruise woman fell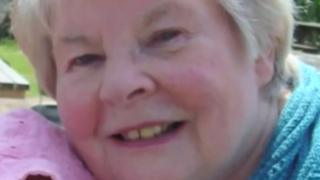 Crew members "panicked" as a retired teacher fell between the Queen Elizabeth liner and a floating platform, an inquest has heard.
Mary Atherton was attempting to step from a transport vessel, known as a tender, onto a pontoon attached to the liner when she was crushed in April.
She had been returning from a shore trip to Cambodia.
Passenger Pamela Griffiths told Preston Coroner's Court the crew "appeared to panic" in the aftermath of her fall.
She added crew members were left stranded for a certain time with "nobody appearing to do anything" to help the 75-year-old.
'Leading the field'
Mrs Griffiths gave evidence by telephone and told the hearing she had nightmares about the incident.
Independent maritime safety consultant Christopher Metson said the disembarkation should have halted until sea conditions were better.
Mrs Atherton, from Penwortham, Lancashire, had mobility problems and should have been asked to remain in her seat.
He said a number of recommendations made to the company had already been implemented by ship owner Cunard.
He added once the measures were in place the company would be "leading the field" in ship safety.
Cunard showed the coroner a prototype of a ramp developed to bridge the gap between tender and pontoon.
The inquest continues.