Taxi driver child sex claims handled badly, says report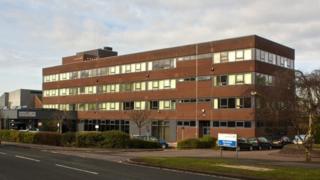 Allegations that two children were sexually exploited by taxi drivers in Lancashire were not dealt with adequately, a report has concluded.
The independent review found there was a clear risk that South Ribble Council was unable to safeguard children and the welfare of taxi passengers in general.
An investigation of the licensing department has begun.
The council said two members of staff had been suspended.
An urgent audit of taxi driver applications on 3 December last year found that appropriate background checks had not been carried out in relation to 40 working taxi drivers in South Ribble.
'Significant concerns'
The report, written in December by solicitors Wilkin Chapman LLP and leaked to the BBC, detailed two cases of alleged child sexual exploitation involving two licensed taxi drivers:
Case A alleged that a taxi driver had made inappropriate sexual remarks to a vulnerable 16-year-old girl who he transported as part of a school contract for Lancashire County Council.
Case B involved a driver who was arrested for sexually abusing a girl of primary school age. No prosecution was brought because of difficulties with her giving evidence. But the report stated police were clear detectives considered that the driver had committed an offence and continued to pose a safeguarding risk.
The report said these cases were "not properly investigated" by the council. In relation to case A, it found that "some committee members appeared to blame the 16-year-old girl for the driver's behaviour towards her" and his licence was not revoked.
A handwritten note by the 16-year-old girl had expressed fears of being raped, the report said.
This note was not reported to the licensing committee when it considered the driver's licence.
No interviews with the drivers concerned were carried out under caution and no witness statements were taken from the victims, the report added.
Relevant evidence was not given to the licensing committee and there was no significant intelligence-sharing with the police, it said.
The report did not make clear if the two taxi drivers involved in the allegations had undergone the appropriate checks.
The report highlighted "significant concerns" over the licensing department which, it said, had:
Ineffective record-keeping
Inadequate appreciation of the council's duty to protect children and the taxi-using public
Poor liaison with police and other external agencies
The interim report concluded that the current licensing function was "not operating in a satisfactory manner" and there was a risk the council was "unable to satisfactorily meet its duties to safeguard children and protect children and the welfare of taxi passengers in general".
It recommended the council "identified any risk to the public" and improve its training of staff.
Seema Kennedy, MP for South Ribble, said: "The allegations are incredibly serious. Children's safety must always be our first priority."
Ms Kennedy has asked the council for a copy of the report and is "seeking clarification that it is taking all possible steps to uncover failings in a transparent manner and bring those responsible to account".