Action urged over Chorley Hospital A&E closure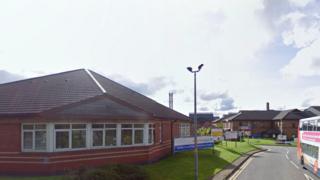 Local authorities in Lancashire have urged a hospital to draw up an action plan to re-open its accident and emergency department.
Chorley Hospital was downgraded to an urgent care service on Monday after Lancashire Teaching Hospitals NHS Trust said there was a shortage of doctors.
Lancashire County Council and Preston City Council called on the hospital trust to be "upfront" about its plans.
The trust said they are absolutely committed to reinstating the A&E.
Hospital bosses said there were "no other safe options" but to close the service temporarily as it cannot "recruit enough staff to provide a safe service".
But councils are demanding it be re-opened and say shutting the service will lead to increased pressure on neighbouring hospitals.
A joint statement from Lancashire and Preston councils said they are "extremely concerned" and want "to see a clear action plan... and a more definite timescale".
It calls for re-opening the A&E so that "residents get the best care possible in a timely manner" and urges the government to ensure "a supply of qualified doctors".
Karen Partington, chief executive of the trust, said its "extensive recruitment activities are ongoing" and it have has the councils informed about how it is "planning to resolve the issue."
"We confirmed our absolute commitment to reinstating the emergency department as soon as we have enough doctors to provide a safe and sustainable service," she said.
Chorley and South Ribble councils said people "will be faced with longer journey times or increased waiting times as more pressure is put on the services at the Royal Preston Hospital."
They said it is important the trust outlines its plans "if there is any consideration being given to closing the A&E service at the Chorley site permanently... so we, and our residents, can provide our input".
More than 17,000 people have signed a petition to keep A&E open.