Darwen father and son jailed over child sex abuse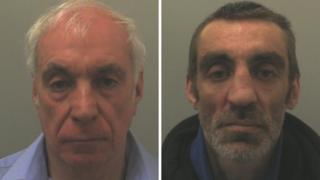 A father and son have been jailed for sexually abusing young girls in Darwen.
Peter Yates, 67, was found guilty of 36 child sex offences against 10 girls aged between six and 15, in the 80s and 90s. He was sentenced to 25 years.
His son Shaun Yates, 44, was sentenced to eight years after he was convicted of two counts of rape against a girl, aged 12.
It followed a seven week trial at Preston Crown Court.
'Shocking' abuse
Peter Yates, of Birch Hall Avenue, Darwen, was arrested in March 2015 following an investigation into a series of historic sex offences against two girls aged six and seven.
Police said the inquiry revealed Yates had abused 10 girls.
Shaun Yates, of Lea Road, Birmingham, was later arrested when it emerged he had also committed sexual offences against a further victim.
Det Const Nicola Mullins from the Public Protection Unit said: "Peter Yates...took advantage of these young girls in the worst possible way and committed these despicable offences over a sustained period of time.
"The fact that his son, Shaun Yates, also took advantage of his victim in the same way makes this case even more shocking and it shows their complete disregard for their young victims."