Sadie Hartley death: Murder accused 'bought stun gun'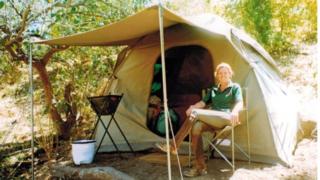 A woman accused of murdering her love rival bought a 500,000 volt stun gun and was told it could kill if not used properly, a court has heard.
Sadie Hartley, 60, was stunned with a cattle prod and stabbed in her home in Helmshore, Rossendale, in January.
Sarah Williams, 35, and Katrina Walsh, 56, both from Chester, deny murdering the mother-of-two.
Preston Crown Court heard the pair travelled to Germany to buy the electro-shock device.
'Risk of death'
Giving evidence via videolink, Security Discount Germany employee Anna Schanz said the two women came to their offices in Damstadt in December last year.
She pointed to a photo of Ms Williams and said she did all the talking during the sale.
The jury was told Ms Williams had wanted to buy a device capable of firing one million volts and a security baton, but was told they were both out of stock.
She was shown a less powerful 500,000 volt stun gun instead.
Mrs Schanz said she informed her there was a risk of death if the gun was fired at the head or neck.
John McDermott QC, prosecuting, asked: "Did the younger woman know how to use the gun?"
Mrs Schanz said: "No, she didn't know. I showed her. I gave her a demonstration when she tried it out."
The prosecutor added: "Is it for use on all parts of the body?"
"No, I explained specifically it can only be used on the shoulders, tummy and hips," Ms Schanz replied.
No record of the cash sale was kept, she said, and there was no CCTV.
Several cans of pepper spray were also purchased by the women, she told the court.
Gordon Cole QC, representing Ms Williams, asked Mrs Schanz whether she could be mistaken about which of the two women had the conversation about the stun gun.
Mrs Schanz said: "It was the younger lady."
The trial continues.