Thornton home sealed off after 'body in garden' tip-off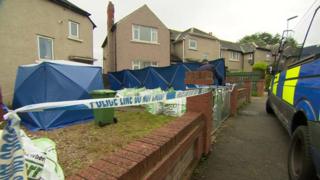 Police investigating reports of a body buried in a garden are deciding whether to begin excavations.
Lancashire Police have cordoned off the home in Thornton, near Blackpool, following information received in a tip-off.
Officers have removed vegetation from the garden of the house in Knowsley Crescent and put up forensic tents.
The force said it was carrying out an assessment to decide whether the garden should be considered a crime scene.
Neighbours told the BBC a man who lived at the house had left the village several months ago.
One man said: "I never saw him go. He just kind of disappeared and the next minute they boarded it up."