Sadie Hartley death: Woman denies killing love rival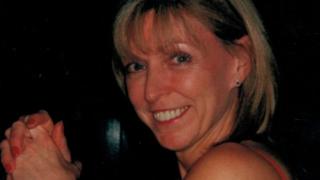 A woman accused of murdering a love rival by paralysing her with a stun gun and stabbing her to death has denied the killing.
Sarah Williams, 35, told Preston Crown Court, she had never said a "bad word" about Sadie Hartley, who was killed at home on 14 January.
Ms Hartley, 60, was stabbed 40 times in Helmshore Lancashire
Ms Williams denies murdering the mother-of-two with her friend, Katrina Walsh, 56.
The court previously heard Ms Williams sent a letter to the victim about an affair with Ms Hartley's partner Ian Johnston which dated back to 2013.
She told the court she "regretted" her letter, sent in 2014, adding: "I was venting my feelings towards Ian at the time. It was not directed at the right person."
Asked by her barrister, Gordon Cole QC, if she had killed Ms Hartley she replied: "No".
'Sugar daddy'
Ms Williams also denied having feelings of animosity towards Ms Hartley, although she agreed she had referred to Ms Hartley as "a bitch" in conversation with friends, but not "the bitch".
She said: "If I'm being critical it would be a word I would use."
Ms Williams, who described her own character as "quite easy going", also told the court of another affair she had while in a long-term relationship with David Hardwick, 75, a man described in court as her "sugar daddy".
The defendant, who had been in a relationship with Mr Hardwick since she was 17, said she had an "intense, passionate" relationship with married Thai martial arts instructor Somapat Sitiwatjana, 47, between June 2011 and April 2012.
When the relationship ended she admitted sending a letter to his wife, Janet, outlining their affair and even sent a baby scan image to Mr Sitiwatjana.
She admitted to the court the picture was a friend's baby.
The case continues