Fire breaks out at Lancaster city-centre printers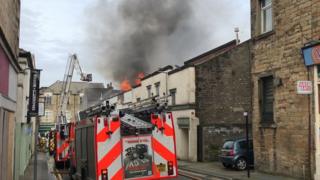 Nearly 50 firefighters tackled a large blaze in a block of city-centre shops.
Lancashire Fire and Rescue Service believes the fire started on the first floor of a printers on Mary Street in Lancaster at about 12:40 BST.
A spokesman said there were no reports of any injuries.
He said neighbouring buildings had to be evacuated, however, and there was "significant damage" to the roof and the first floor of the terraced block of shops.
The fire service said an investigation was under way but an initial report suggests it was "electrical in origin and involved a machine".