WWT Martin Mere builds world's largest bug hotel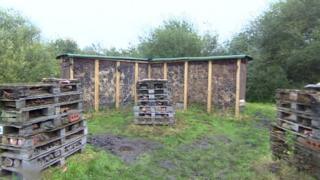 A world record-breaking hotel for insects has been built at a wetlands centre.
The house at Martin Mere Wetland Centre in Burscough, Lancashire, is nearly twice as big as the previous record holder at 18.46 cubic metres.
Its residents include leafcutter bees, mason bees, spiders, moths, a peacock butterfly, a frog and a bat.
Manager Nick Brooks said they wanted to provide a habitat for the insects that also got the local community involved.
He said it took a month to build and they got the official confirmation from Guinness World Records on 7 September.
The insect hotel is made from 720 boxes filled with straw and bamboo.
"We didn't just break the record, we smashed it. The previous record was about 10 cubic metres and we are officially 18.46 cubic metres," Mr Brooks added.
"Local schools and businesses got involved as well as thousands of our visitors. The bug hotel has proven to be a great attraction as well as a new home for wildlife."
The insect house will stay in place permanently, with boxes being replaced as they decay, as it plays a role in increasing biodiversity in the area.