Ribble Estuary reserve will be 'bird haven' and 'improve flood protection'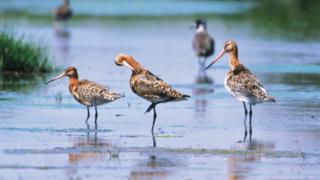 A new nature reserve in Lancashire will be a bird haven as well as improving flood protection, the government said.
Environment Minister Therese Coffey said the £6m Ribble Estuary scheme will create hundreds of acres of salt marsh.
The Environment Agency (EA) said the project will provide an important habitat for avocets, black-tailed godwits and pink-footed geese.
It will also strengthen and raise sea defences behind the site to protect properties and farmland.
Once completed, the work - which will begin later this year - will allow seawater to gradually come into the area at Hesketh.
Over time, salt marsh plants and other wildlife will re-establish themselves.
It will link with the existing Royal Society for the Protection of Birds (RSPB) reserve at Hesketh Out.
Both areas will be jointly managed by the RSPB and Natural England as one large reserve.
It will be designated as part of the existing Ribble Estuary National Nature Reserve later this year.
Funding for the project, which is a partnership between the RSPB, Natural England and the EA, has included £3.7m from the government to reduce flood risk.
Ms Coffey said: "Hesketh is an inspiring project, creating fantastic new habitats for wildlife and providing increased flood protection for hundreds of people living around the Ribble Estuary."
Robin Horner, RSPB area manager, said: "These improved coastal defences, fronted by salt marsh, deliver much needed local climate change adaptation and provide invaluable new wildlife habitat close to Britain's most important single river estuary for birds."