Burnley buy back club's first trophy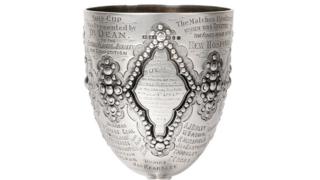 A goblet presented to Burnley in honour of the club's first cup success has been bought by Premier League side at auction.
The Clarets spent £3,200 to acquire the cup, known as the Dr Dean Trophy, in Leyburn, Yorkshire.
It was presented to Burnley in 1883 for beating Burnley Ramblers in the final of what is now the Hospital Cup.
The trophy, engraved with the names of the victorious players, will go on show in the Turf Moor trophy cabinet.
The competition was created by Dr Thomas Dean, Burnley's medical officer of health, to raise funds for a new hospital in the town.
The trophy, which had only been estimated to sell for £500-£700, has an 1877 hallmark and commemorates the final played on 11 June 1883.
Burnley won the game at Turf Moor 2-1 and the match raised £70 towards the cost of the new hospital.
A spokeswoman for auctioneer Tennant's said the father of the vendor was married to the sister of the club's secretary.