University of Central Lancashire's 'shared space' plan approved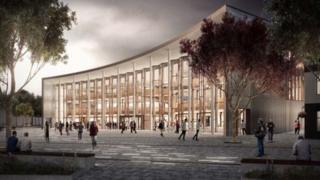 A £200m phased university redevelopment that includes cars and pedestrians sharing roads has been approved.
The University of Central Lancashire's plan will create a civic square, a student centre and a "shared space" around Preston's Adelphi roundabout.
Galloway's Society for the Blind and the National Federation of the Blind had objected on safety grounds.
Preston City Council gave the go ahead with conditions and the university said it will work with the blind community.
The five-year redevelopment is funded by the university and is being carried out in phases with the latest one including the civic centre and "shared space" scheme.
Those schemes remove demarcation for different transport types, such as crossings, kerbs and road markings, with the aim of reducing vehicle speeds and balancing the needs of drivers, cyclists and pedestrians.
Juan Greggor, a visually impaired student, objected "because shared spaces make me, as a guide dog user and as a visually impaired person, unsafe."
Stuart Clayton, from Galloway's Society for the Blind, said these schemes rely on "eye contact" between the pedestrian and driver to cross the road, which is unsafe for visually impaired people.
Groups representing visually impaired people, including Galloway's, have been involved in consultations, Sue Procter from Lancashire County Council said.
Joel Arber from the university said it will work with the blind community to make it as "accessible as possible".
Permission was granted with conditions including noise restrictions and protection for nesting birds during construction.
The latest development is part of a wider campus redevelopment that also includes a £30m engineering innovation centre and a £1m multi-faith and spirituality centre.