Burnley's Hameldon Community College to close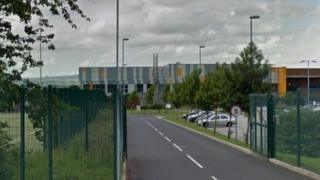 A struggling secondary school in Lancashire is to close following poor exam results and a reduction in the number of pupils.
Burnley's Hameldon Community College will close on 31 August 2019, Lancashire County Council said.
The authority said the decision "isn't something that is done lightly".
The current Year 11 students will be unaffected by the closure and will leave the school in July 2018. Younger pupils will move to different schools.
Susie Charles, cabinet member for children, young people and schools, said: "We have a duty to provide a high-quality education for all of our young people and we cannot justify keeping open a school with consistently poor results.
"There are now fewer than 200 pupils in a school built for 750. These numbers impact on the school's financial situation, which means that the school must lose teachers and other staff to be able to balance the books.
"I'm conscious of the distress and disruption any school closure causes and we will do all we can to help with this. But we cannot continue to support a school which does not meet the required standards."