Accrington shooting: Dad blamed 14-year-old son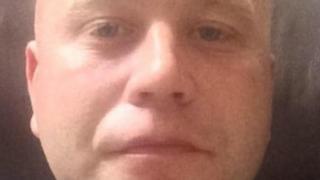 A father falsely blamed his teenage son for the shotgun murder of a man on the doorstep of their home, a jury heard.
Lee Holt, 32, died after being shot in Barnard Close, Oswaldtwistle, Lancashire on 25 October.
Prosecutors allege Matthew Moseley, 50, fired the weapon but handed it to his son saying: "Tell them you've done it." Mr Moseley denies murder.
The court heard his 14-year-old son told police: "No normal kid has ever had to do anything like this."
'Loyalty and love'
Preston Crown Court heard Mr Holt, from Accrington, visited the address as part of a long-standing dispute between Mr Moseley's son and his partner's son, also aged 14, which had flared up on social media.
The prosecution claims Mr Moseley opened his front door and fired a Beretta semi-automatic shotgun once at Mr Holt.
He died later in hospital from a single wound to the chest.
The defendant then immediately handed the weapon to his son who was inside the house, the court was told.
Opening the case, Robert O'Sullivan QC said the prosecution believed Matthew Moseley "has falsely blamed his son" and "has sought to manipulate his son into accepting responsibility" for the shooting.
"[His son] initially did just that, out of what you may think was loyalty and love for his father.
'Take the blame'
The teenager told police: "I'm holding the gun thinking 'what the flame has just happened?"'
He said his mother Julia had thought in the immediate aftermath that he had fired the fatal shot and had asked him why he did not shoot Mr Holt in the legs.
In a recording of the interview played to the jury, an officer asks him: "How did you feel at that point?"
He replies: "Rubbish. And the police obviously came in and I told them I had done it and then my dad said it was in self-defence."
Asked why he told police at the crime scene that he was responsible, he said he thought he was covering for his father.
He then told police: "He is my dad. I love him to bits but you would think he would take responsibility for what he has done and not let his son take the blame for him."
The trial is expected to last three weeks.