Oswaldtwistle shooting: Son 'lied to protect dad'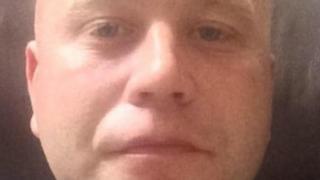 The teenage son of a man accused of killing the father of another schoolboy has told a jury he lied about who was responsible because "he is my dad".
Lee Holt, 32, was fatally shot in Oswaldtwistle, Lancashire in October.
The son of Matthew Moseley, who denies murdering Mr Holt, initially told police he had pulled the trigger, before changing his story at interview.
The 14-year-old told Preston Crown Court he was now telling the truth, because it was "the right thing to do".
The prosecution alleges Mr Moseley, 50, shot Mr Holt on his doorstep in Barnard Close after the 32-year-old had gone to his house to confront his son over an ongoing dispute between the boys.
'Love him to bits'
The court has previously heard claims that Mr Moseley then pressured his son to take responsibility for the shooting.
Answering questions from defence barrister Nick Johnson QC, the 14-year-old admitted that if he had not changed his story to police, he "would be stood where my dad is".
Describing what happened, he said the front door "got opened and Lee tried to come in and go for my dad", before his father "shoved him back".
"I think the shotgun went off and Lee went back through the door," he said.
The boy said his father then handed him the gun - a semi-automatic Beretta shotgun - and asked him to take the blame, which he did when police arrived.
The boy said he did it because "I love him to bits [and] he has always been there for me".
However, he said he had changed his story after being arrested "because it was the right thing to do".
The trial continues.