Lancashire Lifesavers: New Blackburn defibrillator helps save woman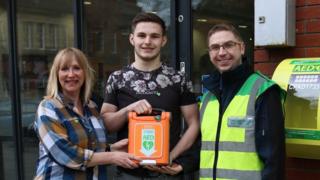 A defibrillator installed as part of a public health campaign was brought into action within a week.
The kit outside BBC Radio Lancashire's studios in Blackburn was fitted on 18 April as part of Lancashire Lifesavers, a drive to provide free CPR training.
When a woman fell ill at the nearby Vic pub on Tuesday, emergency services told assistant manager Callum Walton to send somebody to fetch the defibrillator.
It was successfully used two to three minutes later, said the 18-year-old.
Mr Walton said: "I didn't know there was one outside BBC Radio Lancashire but [the call handler] told me… they asked me to send someone so I could stay with the patient."
'Incredible piece of equipment'
Because the woman was only having about two breaths per minute, he said he was told to use the defibrillator.
"It was easy," he said. "When you open it and take the pads out it tells you exactly where to stick them and then all you have to do is open it and from there it tells you what to do in full detail.
"It is an incredible piece of equipment and it will save so many lives."
The woman is now recovering in hospital.
BBC Radio Lancashire presenter Ted Robbins, who officially unveiled the defibrillator, said he was personally "eternally grateful" for having received CPR himself.
He collapsed on stage during a performance of Phoenix Nights Live at Manchester Arena in 2015.
Lancashire Lifesavers is a partnership between the BBC, Lancashire County Council and the North West Ambulance Service.
It was launched by county councillor Tony Jones, who was saved by a fellow councillor performing CPR when he had a cardiac arrest at a council meeting last year.
More than 1,000 people have already been trained in CPR since the campaign's launch a week ago.