Fylde MP lobbies minister after residents each hit with £30,000 bill to repair flats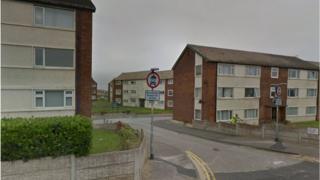 An MP has asked the housing minister to help a group of residents who all face a £30,000 bill to repair their flats.
Some residents of Lindsay Court in Lytham St Annes, Lancashire fear losing their properties if they cannot pay towards the £2.8m refurbishment.
Many of them are elderly and "simply have not got £30,000 or anything like that", Fylde MP Mark Menzies said.
Homestead, which manages the 96 flats on Squires Gate Lane, said it will seek funding but this is the cheapest quote.
About 70 leaseholders of the flats last month lost a court battle to stop Homestead going ahead with the plan.
A judge said it was the only realistic option.
Mr Menzies said some residents are surviving only on a pension and their properties are currently "unsellable", leaving them "caught between a rock and a hard place".
Some are "becoming ill" as a result of the situation, he said, adding that many are "vulnerable - such as the elderly and disabled - and their treatment is just not on".
Mr Menzies said he has written to the housing minister and to the Homes and Communities Agency to ask for help.
Patrick Brown, who has owned his flat for seven years, said "we just can't afford £30,000".
"I do avoid asking people to come round... I get embarrassed by the look of the buildings and the estate," he said.
Resident of 18 years Gillian Cardwell said in very bad weather she has "moved out... I've slept somewhere else and booked into a hotel one night" due to "wind lifting the tiles on the roof, which is scary".
David Bentham, from Homestead, said the company "needed to have the project" in place to "then go out and try to source funding".
"We recognise that £30,000 is very difficult for all owners" and "we sympathise" with them.
He said he has spoken to the council "about Homes England helping to fund" the work and will meet Mr Menzies on Friday.