Killers rearrested over Leeds fan deaths in Turkey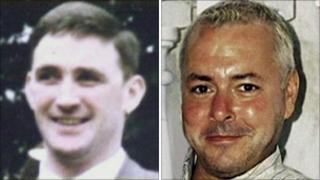 The brother of one of two Leeds United fans murdered in Turkey 10 years ago has welcomed news that two of the killers have been rearrested.
Chris Loftus and Kevin Speight were stabbed in Istanbul on the eve of Leeds' Uefa Cup semi-final tie against Galatasaray in April 2000.
Two of the men convicted of murder have been rearrested after losing an appeal against conviction.
Mr Loftus's brother Andy said: "It's a step in the right direction."
Mr Speight and Mr Loftus were attacked with machetes when a row broke out between rival fans.
Those involved were jailed but after several months were released on bail pending an appeal.
Earlier this year an appeals court in Turkey upheld their convictions.
Andy Loftus said there was still anger over the length of time the case had taken.
"Obviously we want to see someone behind bars for this but it's just baffling it's taken ten years to get to this point."
Leeds MP Fabian Hamilton, who has been campaigning on behalf of the dead men's families, has also welcomed the news.
He said the actions of the Turkish court were "very significant" because the men had been free on bail and that had "caused a great deal of anxiety for the families".