Criminals used to grit pavements in Leeds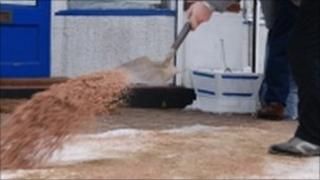 Criminals serving community sentences are being deployed to grit areas used frequently by older people or in front of shops during the severe weather.
Councillors in the north east of Leeds have been flagging up so-called "grit spots" that people are having difficulty negotiating.
And the city council has been working with probation staff and the highways department to identify difficult areas.
Offenders are working as part of the community payback scheme.
Chairman of the city council's Inner East Area Committee, Mohammed Rafique said the scheme would benefit the whole community.
'Residential areas'
He said: "Highways do their utmost to ensure that the majority of primary and secondary road routes are kept clear and gritted during cold weather.
"However pavements and footpaths, particularly in residential areas are often left untouched.
"Working together, we can identify areas where people will struggle to get about and ensure that they are gritted or that snow is removed, enabling local people to get about.
"This scheme is both of great benefit to local people as well as ensuring that offenders give something back to the community."