High winds damage roof of Swarcliffe flats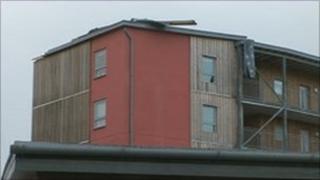 People in a block of flats in Leeds have been evacuated from the building as high winds damaged part of the roof.
West Yorkshire Police also warned people living near the Lombardy House block on Southwood Close in Swarcliffe to take care.
Structural engineers were called to the flats just off the outer ring road to assess the damage on Friday afternoon.
A cordon was put in place and rooms booked at a nearby hotel in the event people could not return to their homes.
Residents in nearby Southwood Road and Southwood Drive were advised to stay indoors by officers.