Leeds primary school expansion plans set for go-ahead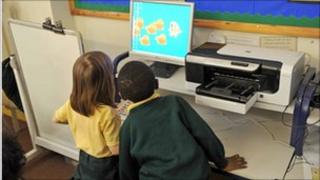 The expansion of 11 primary schools in Leeds to meet the increasing demand for places is set to be signed off.
The city council's executive board meet on Wednesday to discuss improvements which will provide 370 extra places.
The new classroom, toilet, library and office facilities will be ready for use from this September.
Children's services director Nigel Richardson said: "These expansions are necessary to ensure there are enough places for every child who needs one."
The council said the new facilities would be "modern modular buildings, which are sustainable and have a lifespan of up to 50 years".
They will be built off-site to minimise disruption.
'Surplus places'
The primary schools which will be expanded are: Blackgates, Brudenell, Farsley Farfield, Featherbank, Horsforth, Ingram Road, Ireland Wood, Ryecroft, St Bartholomew's CofE, Valley View Community and Whitkirk.
Jane Dowson, the council's executive board member for learning, said: "The council has a responsibility to offer education to every child in the city and we have to act to ensure there are local places to meet local needs.
"There are surplus places available across the city but they are often not where the demand is and are in older age groups.
"We are committed to providing the best possible education for all children and young people and will continue to work closely with these 11 schools regarding these expansions."