Overturned lorry death man named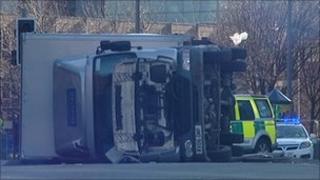 A pedestrian who died when a lorry overturned in strong winds in the centre of Leeds has been named.
Police were called to Neville Street at about 1400 GMT last Thursday after a curtain-sided lorry overturned.
Edward James Slaney, 35, of Upper Gaukroger, Sowerby Bridge, was fatally injured in the incident. A female pedestrian was also hurt.
An investigation into the cause of the accident is being carried out by West Yorkshire Police.