Art lovers pick West Yorkshire's top paintings online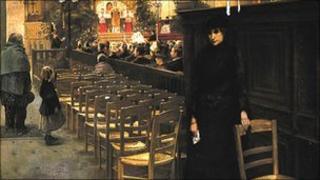 Art lovers in West Yorkshire are being asked to choose their favourite painting as the county's finest art works go online for the first time.
The Yorkshire's Favourites website features many paintings which are on show in the region's galleries.
People are now being asked to log on to say why they like a particular work.
The project is thought to be one of the first of its kind in the UK and features art from Bradford's Cartwright Hall and Shibden Hall in Halifax.
Funded by the Yorkshire Regional Museums Hub, which includes museums services in Bradford, Hull, Leeds, Sheffield and York, the project allows visitors to zoom in and view works of art in minute detail.
The website contains 100 paintings held in collections across Yorkshire, dating from the 17th to the 21st century and covering a wide range of artistic styles and genres.
Thousands of art fans have already visited the website, telling stories and leaving comments explaining why they like particular works.
Increasing trend
Jill Iredale, curator at Cartwright Hall art gallery, said it was fantastic that so many paintings were now accessible worldwide.
"Times are changing and we think it is going to be an increasing trend for galleries and museums to show their exhibitions online.
"The move towards giving these works of art an online presence is a welcome one.
"But it is one we think will encourage people to come to the galleries and see the works for themselves," she said.
The painting from the Cartwright Hall collection which has gained the most online comments so far is The Marriage, painted by John Paul Sinibaldi in 1886.
Other West Yorkshire galleries taking part in the project are Huddersfield art gallery, the Smith gallery in Brighouse and Bankfield Museum in Halifax.