Kirklees PCSO funding agreed by council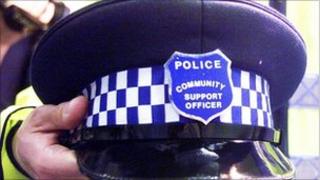 A recruitment freeze is to be lifted on Police Community Support Officers (PCSO) in part of West Yorkshire after new council funding was agreed.
Kirklees Council will put up £611,000 to continue to part-fund 68 of the 107 PCSOs that currently work in the area.
The money will also allow the force to lift a recruitment freeze and take on 18 new PCSOs over the coming year.
Funding was in doubt after major budget cuts, with West Yorkshire Police due to lose 1,000 jobs in the next 12 months.
Ch Supt Chris Harden, of Kirklees Police, said he was "delighted" that Kirklees Council had decided to continue funding in these "very difficult financial times".
"PCSOs perform a vital role in supporting frontline policing and providing reassurance and help to all communities in Kirklees," he said.
However, John Christopher, vice-chairman of the West Yorkshire Police Federation, said his members and the public "would be asking why the force is taking on PCSOs when the money could be used for a police officer".
"PCSOs have very limited powers... they are not as good value for money as a police officer," he added.
Last month West Yorkshire Police announced that it had to save £37m this year, leading to job losses across its 10,500-strong workforce.
Most of the positions would be lost through natural wastage, the force said.