Holmfirth High School gets £100,000 cricket grant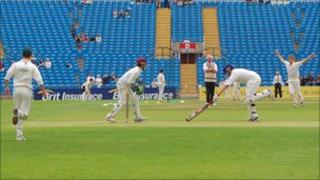 A West Yorkshire school has been awarded almost £100,000 towards new indoor cricket nets.
Holmfirth High School has been given the money for four nets and improved lighting in the sports hall, which will be used for indoor games.
The funding has come from the England and Wales Cricket Board in partnership with Sport England.
The school's sports hall is already used by the local community. Ten local cricket clubs will also use the nets.
Building work on the project, which has a total cost of £115,000, is underway.
An official opening of the new facility is planned for May.
Donald Cumming, assistant headteacher at the school, said: "We are looking forward to the school providing our first Yorkshire county player."
He said the school hoped to increase the amount of cricket played by the school teams and encourage more girls and women to get into the sport.