BBC School Report Day 2011 launched in West Yorkshire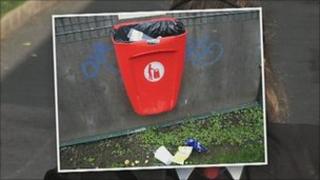 Schools from around West Yorkshire have taken part in the BBC's School Report Day 2011.
This year has been more ambitious than before with schools covering local, national and international stories.
Primrose High School in Leeds interviewed the Prime Minister, Royds School spoke to a former child soldier from Sudan.
Students from Rastrick High School spent the day running a special newsroom at the BBC in Salford Quays.
This was all part of an annual event involving thousands of pupils in hundreds of UK schools.
Pupils from Primrose High School went to Downing Street to put a question to Prime Minister David Cameron.
Royds School used the facilities at Radio Leeds to interview a former Sudanese child soldier in the BBC's London studios.
Rastrick High School compiled their own report for Look North on litter which ran on the day.
More footage from the three West Yorkshire schools was made available to Look North and can be accessed via the TV red button.