Leeds Latin festival launched in Millennium Square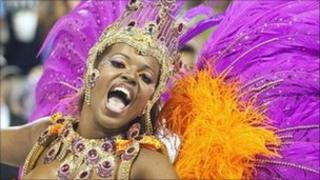 Leeds' Millennium Square will be filled with colourful costumes and Latin dancers as the UK's biggest outdoor Latino festival is launched.
The event on Tuesday was due to feature music and samba dancers.
Zumba instructor Julia Lawson was hosting a Zumba class with dancers to give a taste of what to expect at the main event.
The "Leeds Love Latino" festival will take place on Sunday 29 May in Millennium Square.
'New and exciting'
Organised by Leeds City Council, the event will feature a mix of live music, DJs and dance, including the biggest-ever Zumba class seen in Leeds.
Zumba, a type of exercise that sets a dance workout to Latin and international music, is increasingly popular across the UK.
The musical performances will be led by the UK's best-known salsa band Salsa Celtica, joined by Latin Dub Sound System, Cuban funk band Wara and samba rock group Afrosamba.
Leeds City Councillor Lisa Mulherin said: "Leeds Loves Latino is going to be like no event we've ever had on Millennium Square and we are delighted to be bringing something new and exciting to the city."