Bradford's young and old people debate citizenship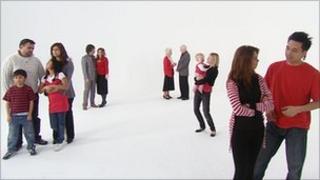 Young and old people in Bradford are to use a debate to foster better understanding between the generations.
The meaning of responsible citizenship will be up for discussion in Bradford City Hall's council chamber.
Organisers said the Great Debate will follow a similar format to a televised debate between party leaders before last year's general election.
Older people will pit their wits against some of the district's brightest young people.
It is the first time Bradford Council has hosted such an event encouraging better understanding and positive relationships between the generations.
Valuable views
Students are participating as part of the National Curriculum on citizenship.
Jean Walker, of Bradford's Older People's Partnership, said: "We all have valuable views on how we can become better citizens and we all have a common interest in making our district a good place to live in."
Young people from Bradford and Keighley Youth Parliament, and schools from across the district will take part.
Also attending will be Bradford and District Older People's Alliance, Bradford and District Senior Power, Denholme Elders Network and the Polish Historical and Intergenerational Society.
A Bradford community radio station will also broadcast a highlights programme on the debate.
The Great Debate will run on Wednesday from 1000 to 1130 BST.