Arts companies dealt Arts Council England funds blow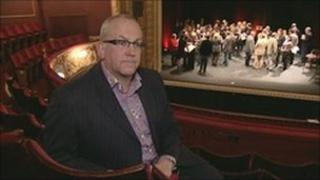 Arts companies in West Yorkshire have been dealt a blow as they are hit by Arts Council England funding cuts.
Leeds-based Northern Ballet has seen its cash cut by a quarter, or £800,000.
Theatre Royal Wakefield managers were shocked at the news that their funding, worth £101,133 this year, will be cut completely from March 2012.
More than 200 organisations that received regular funding from ACE have missed out after its budget was cut by £100m in October's Spending Review.
Northern Ballet said it was "deeply disappointed" with the decision to slash its funds.
The company, which has just moved into a new £12m purpose-built home, said it had "worked hard to become a successful organisation, even though it is widely accepted that we have always been an underfunded company".
'Consider our future'
Murray Edwards, Theatre Royal Wakefield's Executive Director, said the company had expected its funding to continue.
Within the past month playwright John Godber ended his 25-year association with Hull Truck Theatre to set up his own company based at the Theatre Royal Wakefield.
Mr Godber said: "The cuts are a way to put people in their place to stop them having questions about the society we live in and that can't be a good thing."
Mr Edwards said the ACE funding made up 8% of the theatre's income, with the rest coming from ticket sales.
He added: "We felt we had a very strong application with John Godber joining us and our 25 years of history.
"We will now have to consider our future. I do believe we will be able to continue but in what form I can't say."
He added: "It's important to us, but we don't wholly rely on the Arts Council. We will now have to work very hard to secure our future."
ACE chair Dame Liz Forgan said the announcements were "about a resilient future for the arts in England".
The government has pledged an extra £80m in lottery money from 2013 for touring arts companies and those working with young people.