Standedge Tunnel bicentenary is celebrated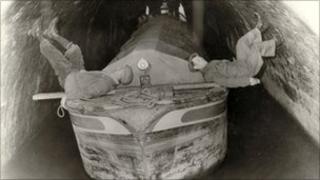 Events are being held to mark the 200th anniversary of the opening of Standedge Tunnel - the longest, highest and deepest on the canal network.
The tunnel, on the Huddersfield Narrow Canal, was opened on 4 April 1811.
It stretches through millstone grit for more than three miles from Marsden, West Yorkshire, to Diggle, Greater Manchester.
James Dean, from the tunnel's visitor centre, said: "It's still one of the major landmarks of the waterways."
Construction of the Huddersfield Narrow Canal was sanctioned by Parliament in 1794 and the trans-Pennine waterway was finished after 16 years.
The first boat went through the tunnel on 10 December 1810, before it was opened the following April.
Deepest point
The 3.1 miles (5km) long tunnel is 643ft (196m) above sea level and at its deepest point is 636ft (194m) below the Pennines.
The tunnel was closed in the 1940s but a campaign to restore the canal started in 1974.
It was fully reopened to navigation in 2001.
Built without a towpath to save money, boats were "legged" through the tunnel while the horses used to pull the boat were led over the hill.
Legging was done lying on the boat and walking along the walls or by lying on the cabin to walk against the roof of the tunnel.
A legged journey could last four hours.
The bicentenary event runs each day between Saturday, 2 April and Monday, 4 April from 1100 BST to 1600 BST.