Bradford residents asked about flood risk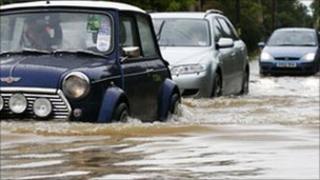 Residents across Bradford are being asked to complete a flood awareness survey as the council works out how it would deal with a potential disaster.
Drainage experts are now working with specialists across Europe on two major projects designed to deal with serious flooding.
The staff have been teamed with experts from seven other European cities to come up with a flood response.
The website survey asks residents their understanding of flood risks.
Bradford Council said there was a need to raise awareness about the potential of a major flooding incident.
A spokesman said: "Recent floods have demonstrated that most cities are insufficiently concerned about, aware of, or prepared for actual floods.
"Growing populations have resulted in pressure to build more houses.
"Commerce and industry also have a constant need to expand in and around cities and conflict often arises between development needs and flood risk.
"Flood risks may escalate with climate change. Conventional flood protection structures are unlikely to be adequate, affordable or maintainable in the future.
"Integrated, adaptable and flexible solutions are needed to allow for climate uncertainty."
The most serious flooding in recent years was in the Stockbridge area of Keighley in October 2000 when the River Aire burst its banks.
Many householders were forced to spend up to six months away from their homes while clearing up took place.
Since then there has been less serious flooding in many parts of the Bradford area including Ilkley, Addingham and Bingley.