Bradford woman sends underwear to Japan quake survivors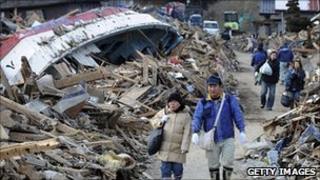 A Bradford woman is collecting underwear in a bid to help people in Japan who lost everything in last month's earthquake and tsunami.
The idea is the brainchild of Kate Kelly who works for Laisterdyke church The Vine.
She has launched a campaign nicknamed Jocks for Japan and is collecting new underwear for both genders and all ages.
She said: "A pair of knickers is something everyone can afford to give."
Deeply upset
Kate Kelly said she was deeply upset to read of the devastation which left many dead and about half a million people homeless.
Ms Kelly said: "I was thinking about these poor people that have lost everything.
"Then my friend in Tokyo, who is helping at one of the shelters said, 'People can live a while without changing their top clothes, when they have lost everything. But what they really want is to have a change of underwear'.
"I thought that was something people might want to help with."
She started the appeal through Facebook and found her home slowly filling up with bags of goods which she is sending on to a shelter in Tokyo.
She said: "I have pensioners and students involved and even children offering to spending their pocket money buying pants for other children.
"Knickers are light and inexpensive to post which makes them ideal - not such a pants idea after all.
"Some people have offered money instead, some of which I'm using to put towards the postal costs. I'm just making this thing up as I go along.
Vicars Cafe
Vicars Cafe Bistro, a cafe run by Christians in Victoria Road, Saltaire, has also offered to be a collection point for the next couple of weeks.
Manager Ruth Fisher said: "We're more than happy to support Kate's campaign.
"Bring your knickers to Vicars between now and 16 April - but please make sure they are brand new and we'll pass them on to Kate for the Tokyo shelter."