Census collectors aid Yorkshire and Humber responses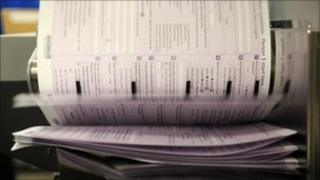 More than one in four households in the Yorkshire and Humber area have not yet completed and returned the 2011 census.
The North East is the UK's most responsive region, with 75% of forms already returned, and there is a 72% response rate in Yorkshire and Humber.
Thousands of collectors will be deployed across the country to contact those who have not yet responded.
Chris Bennett, the census' area manager for Leeds North, said: "We are here to help people, nothing else."
Census collectors will offer help and advice to those who need it, and are even able to help people fill in the form.
They will supply replacement questionnaires if the original has been lost or damaged.
Criminal prosecution
A census response is required by law and not filling in the form could ultimately result in a criminal prosecution and a fine of up to £1,000.
Questionnaires are tracked by a unique barcode printed on the form and should have been completed by Sunday 27 March.
The 2011 count was the first one to be available online and the forms can still be filled in on the website.
Mr Bennett said: "The online facility has helped get good response rates. Harder-to-count areas tend to be urban populations."
Glen Watson, 2011 Census Director, said: "The regional figures are strong."
Census responses are used to help plan and fund a range of UK services such as transport, education and health.
The results will also eventually be invaluable to future researchers into family history.