Orangebox youth facility approved for Halifax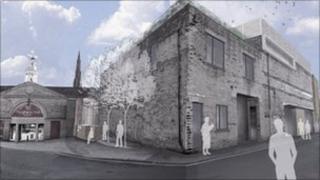 A £3.8m facility for young people is to be built in Halifax, the Department of Education has confirmed.
The Orangebox will provide counselling and support services alongside dance, drama, art and sports facilities.
There will also be a recording studio, climbing tunnel, a roof garden and a roof-top skate park.
David McQuillan from Square Chapel Centre for the Arts, lead partners on the project, said: "We are delighted with this decision."
He added: "The young people involved have been absolutely inspirational in driving the project forward for over two years.
"Together with the design team, they have created something that is not only an incredible facility but also a great piece of architecture."
Calderdale Council's leader, Councillor Janet Battye, said: "This is really fantastic news for the young people of Calderdale.
"This project will tie in with the rest of the work we are trying to do to regenerate and bring a fresh vibrancy to this part of Halifax."
Over the past two-and-a-half years the views and contributions of over a thousand young people have shaped The Orangebox project.
It aims to change the lives of young people and significantly change a historic quarter of Halifax. The new facility will be built adjacent to the Grade I listed Piece Hall.
The Orangebox is part of the myplace programme, which aims to deliver world class youth facilities driven by the active participation of young people and their views and needs.
The programme has already funded 70 projects across England worth £270m.