Bradford and Huddersfield university tuition fees announced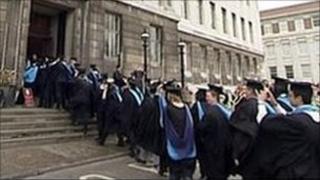 Two universities in West Yorkshire have announced what they plan to charge in tuition fees from next year.
Bradford University is to set its fees at the maximum of £9,000 a year, while students at the University of Huddersfield will be charged £7,950.
Both universities said they had made the decision to increase fees "reluctantly", blaming cuts in government funding.
The proposals are subject to approval by the Office for Fair Access.
Huddersfield University stressed that it was charging less than the maximum of £9,000 a year.
'Fair play'
"The approach we have taken in setting our fee is to put our students first and to try to minimise their future financial burden," a spokesman said.
The university, which has 24,000 students, said it would make 440 scholarships available, each worth £3,000 during the first year of study.
University chancellor Sir Patrick Stewart said: "It is an institution that has strong values and a sense of fair play and, rather than rushing to charge the highest possible fee, it has carefully considered what would be fair to students and set a fee accordingly."
Matt Christie, president of the University of Huddersfield students' union, said: "It is absolutely regrettable that the government has put universities in this situation in the first place, but we are glad that the university listened to our students and worked with us to keep the fee below £8,000."
The chairman of Bradford University's Council, Paul Jagger, said: "The decision to charge a fee of £9,000 is one that has been made with great reluctance but is set against the context of the devastating cuts to the sector and was reached after considerable discussion and consultation within the university."