Leeds burglary rates 'third highest in the UK'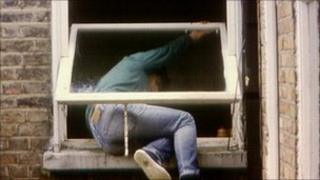 Leeds has some of the highest rates of burglary in the country, a report has revealed.
The Audit Commission study said that in some parts of the city, burglary rates are three times the national average.
Deprived areas like Beeston, Harehills and Armley and places with lots of students such as Headingley were the worst affected.
The report blamed poor quality housing and a network that allows for easy disposal of stolen goods.
Student population
It suggested that "the ability to rapidly convert stolen goods into ready cash is a key influence on young burglars".
The report also noted that the 60,000-strong student population, who generally live in poor quality rented accommodation and are away for long periods, proved attractive to burglars.
Although there has been some improvement in burglary rates in over the past year, in the past three years the gap between Leeds and the rest of the country has widened.
Between April 2007 and March 2010 the rate nationally went down by 4%, whereas in Leeds it went up by 13%.
On average, 26 burglaries were committed daily in the city last year.
When it comes to tackling crime at the source, Insp Steve Lavell, from the Safer Leeds Partnership, said burglary "has become a young people's crime in Leeds".
'Young people's crime'
His department found that just under half of offenders in the city are aged between 15 and 18.
One 18-year-old from the problem area of Halton Moor said young men committed burglaries because they were "bored" and had nothing to do in their area.
However youth worker Yvonne Crowder, from Beeston, who lost almost all her possessions when she was burgled, said it came down to money.
"There's plenty to do out there, the problem is these young people don't have the funds to go and do it."
The Audit Commission recommended that the police develop a more focused strategy with clear goals to deal with the problem, particularly when it comes to stolen goods networks.