West Yorkshire women create UV-detecting jewellery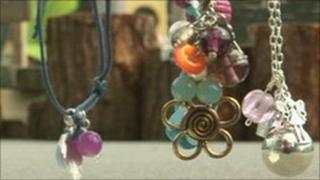 Talk about sun protection and most people think floppy hats, thick factor 50 sun cream and sunny days spent indoors.
But as Britain basks in an unseasonably warm April, two West Yorkshire women are on a mission to change that perception.
Kerry Dean and Angela Thompson decided to start UV Angel when a close friend of theirs had a skin cancer scare.
Their small Oakworth-based company makes jewellery and accessories that change colour in the sun to signal when UV rays are dangerously strong.
Miss Dean explained: "The idea was that we made jewellery and accessories that people would want to wear, but ultimately it's a really important message and reminder to stay sun safe."
Sunburn risk
Skin cancer rates have risen steadily over the past 40 years, and the majority of cases are caused by over-exposure to UV radiation.
In fact, some research shows that a history of sunburn doubles the chance of developing skin cancer.
UV Angels' products tell children and adults to move out of the sun before they reach the lobster-red shade so beloved of some British holidaymakers.
Hayley Collis, of Bradford Cancer Support, said the sun-savvy beads served a dual purpose.
"They're pretty to start with, and the icing on the cake is that they actually inform you about the UV rays when you're outside."