Chernobyl children to meet Lord Mayor of Leeds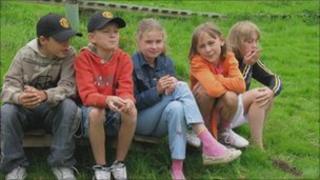 The Lord Mayor of Leeds is to meet 10 children from near Chernobyl who are holidaying in England for four weeks.
The world's worst nuclear accident in 1986 left large parts of Ukraine and Belarus contaminated.
For the past decade families in Leeds have hosted children who are at greater risk of cancer or other diseases but are not currently ill.
Organiser Nicola Morse said: "After a few weeks away the children get rosy cheeks and their energy levels go up."
Hosted by the Chernobyl Children's Project Leeds, the guests are all 10 or 11 years old.
Back home in Belarus they live in villages about 25 miles (38km) from the former nuclear plant.
Constant support
There is still an exclusion zone of around 20 miles (30km) around the old plant.
The six girls and four boys will spend a month in Leeds, staying a fortnight with two different families.
Mrs Morse said there was constant support and back-up available to the host families.
"It's a big thing to send your children away to a group of strangers but the parents back home around Chernobyl know that their children will benefit.
"An amazing amount of trust is put in us."
The children stay in pairs so they can talk to each other and share a room in the house of host families.