Fire hits Oxfam warehouse in Huddersfield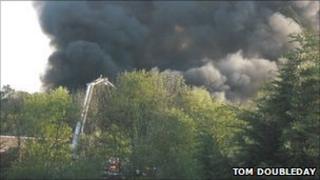 An Oxfam warehouse in Huddersfield has been badly damaged in a fire.
Up to 60 firefighters were at the fire at an industrial estate in Beck Road at its height on Saturday evening.
The single-storey building measuring 55m by 40m houses Oxfam Wastesaver, which sorts thousands of tonnes of donated clothes and textiles.
West Yorkshire Fire and Rescue Service said the warehouse was "100% involved" in the fire and a structural engineer had been called to assess its safety.
The charity said it was difficult to evaluate the cost of the damage but a "lot of stock" had been lost.
David McCullough, Oxfam's director of trading, said the fire had badly hit the operation.
Online stock
He said: "It's very sad, the loss of Wastesaver, which has been a feature of our operation since 1967 - one of which we've been very proud.
"We've lost a lot of stock including some online stock, we don't yet know if that material had already been bought or made ready to go out."
People living nearby said they heard "a big explosion" and loud popping noises after the fire started at about 1800 BST.
Eyewitness Tom Doubleday, 23, an architecture student at the University of Huddersfield, said there was a lot of smoke from the fire.
Mr Doubleday said: "The view I had from the back of the house allowed me to see the top of the warehouse.
"All I could see was a huge plume of smoke.
"It wasn't constant, but in sudden bursts and then we could occasionally see flames leaping about 20m or 30m in height."
A spokeswoman for the fire service said six fire engines plus specialist units had been sent to the fire and crews were still at the scene using an aerial hose and large jet sprays on the remains of the building on Sunday morning.
She said 20 propane canisters were found at the scene by firefighters but were not involved in the fire. The cause of the fire is not known.
By Sunday afternoon just one team of firefighters was at the scene "to keep an eye on things", a fire service spokeswoman said.
Oxfam Wastesaver receives clothes, textiles and shoes from donations that are not immediately sold through the charity's shops.
The facility sorts through the donations and they are either sent out to shops, sold online, exported or recycled.