Colne Valley Museum builders discover hidden well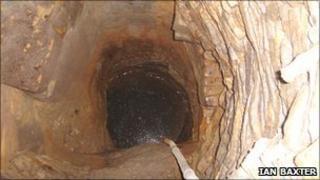 Restoration work at the Colne Valley Museum in Huddersfield has been delayed after a 30ft (9.1m) well was found directly beneath the building.
The discovery was made during work to incorporate a former fish and chip shop into the museum at Golcar.
Builders found the stone well, thought to date from the 17th or 18th Century, under a slab in the shop's cellar.
Work has now begun again at the museum amid hopes money can be found to ensure the well can go on permanent display.
The hidden well, which contains clear water and is about 4ft (1.2m) in diameter, is believed to have served nearby cottages.
'Awkward place'
Museum trustee Edward Shaw said: "This is all very exciting but it has thrown a huge spanner in the works regarding the next step of the development project.
"The well couldn't have been found in a more awkward place, right in the doorway of the new entrance to the museum.
"Just think how many people have stood over that well in the last 100 years, waiting for their fish and chips."
The restoration project, funded by a £50,000 Heritage Lottery grant, will provide more space in which to display the museum's collections.
Mr Shaw said the discovery of the secret well was both exciting and frustrating.
"The trustees have literally had to go right back to the drawing board with the architect and planning officers to see what can and can't be done with a listed building in a conservation area," he said.
Colne Valley Museum trustees have now submitted a new planning application to Kirklees Council which incorporates the well in a new display.