Soldier Lisa Head's funeral takes place in Huddersfield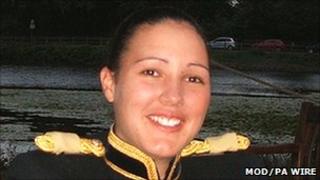 The funeral of the first British female bomb expert to die in action has taken place in Huddersfield.
Capt Lisa Head, 29, was serving with the Royal Logistic Corps when she was fatally injured in an explosion in Afghanistan last month.
She died at Birmingham's Queen Elizabeth NHS Hospital after the bomb exploded in Helmand Province.
Capt Head's funeral, with full military honours, was attended by around 1,000 mourners, at the town's parish church.
She died in hospital on 19 April, after the explosion in an alleyway in Nahr-e-Saraj.
She had disabled one homemade bomb when another exploded.
After being flown home and treated in hospital in Birmingham, Capt Head died from her injuries.
Guard of honour
Comrades from her regiment formed a guard of honour on the steps as her coffin was carried into Huddersfield Parish Church.
Draped in the Union flag and topped with her cap, belt and ceremonial sword, Capt Head's coffin was carried by six pall bearers.
Her parents, John and Leila, and her two younger sisters, Helen and Jayne, led close family into church.
They were joined by hundreds of service personnel, colleagues and friends.
As the coffin was carried into the church, a member of the crowd shouted, "Go on girl!" and applause rang out.
Capt Head is the second British woman soldier to be killed in Afghanistan.
In June 2008 Sarah Bryant, 26, a member of the Intelligence Corps, died along with three SAS men in a roadside bomb attack in Lashkar Gah.